The Bodum Bistro burr grinder was the first coffee grinder I invested in. And I'm thrilled with it! Let me give you a tour of the owner.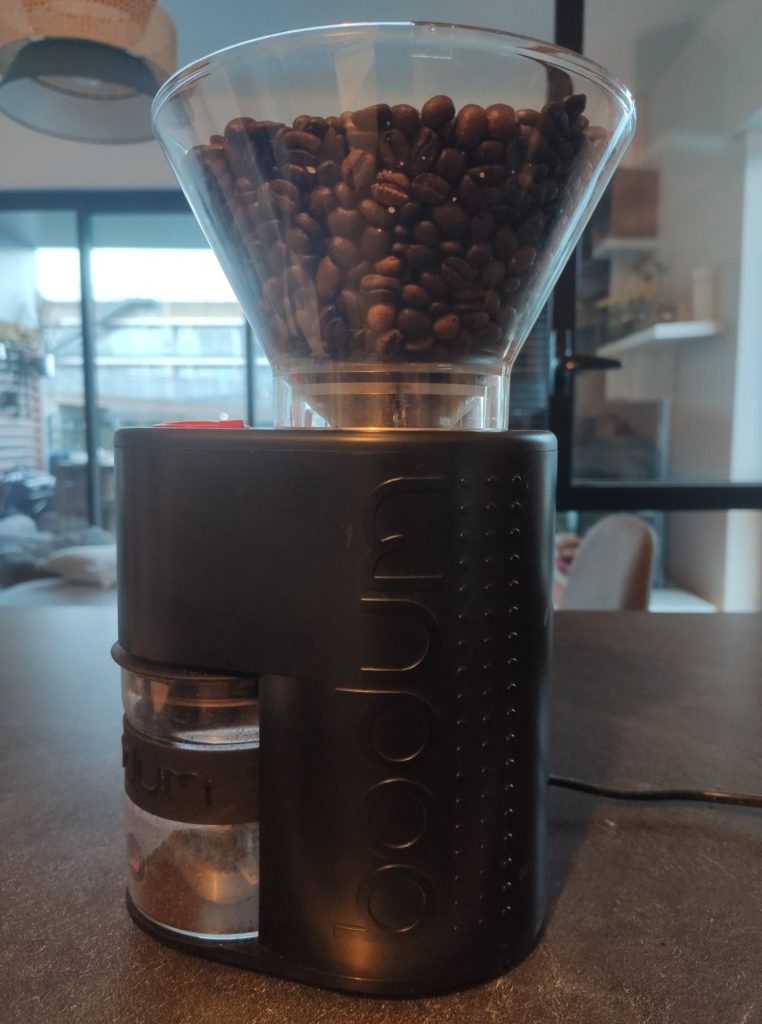 First of all, it's an electric coffee grinder, no more physical effort in the morning to prepare your coffee. This is an important point for me since I already owned a manual and electric coffee grinder with blades that both came from my grandmother.
Why buy this coffee grinder
The second point is that it has grinders, coffee grinders with grinders are the most popular among enthusiasts and this for two main reasons:
The coffee grinders with wheels are adjustableThis means that we can get a different grind adapted to our coffee machine.
Grinders with wheels heat less and they don't overheat the coffee, this is a big problem with blade coffee grinders and it's a shame to spoil the coffee before you've even prepared it.
Finally this mill is practical! It has a large enough grain tank that you don't have to refill it every day. It is automatic, for example.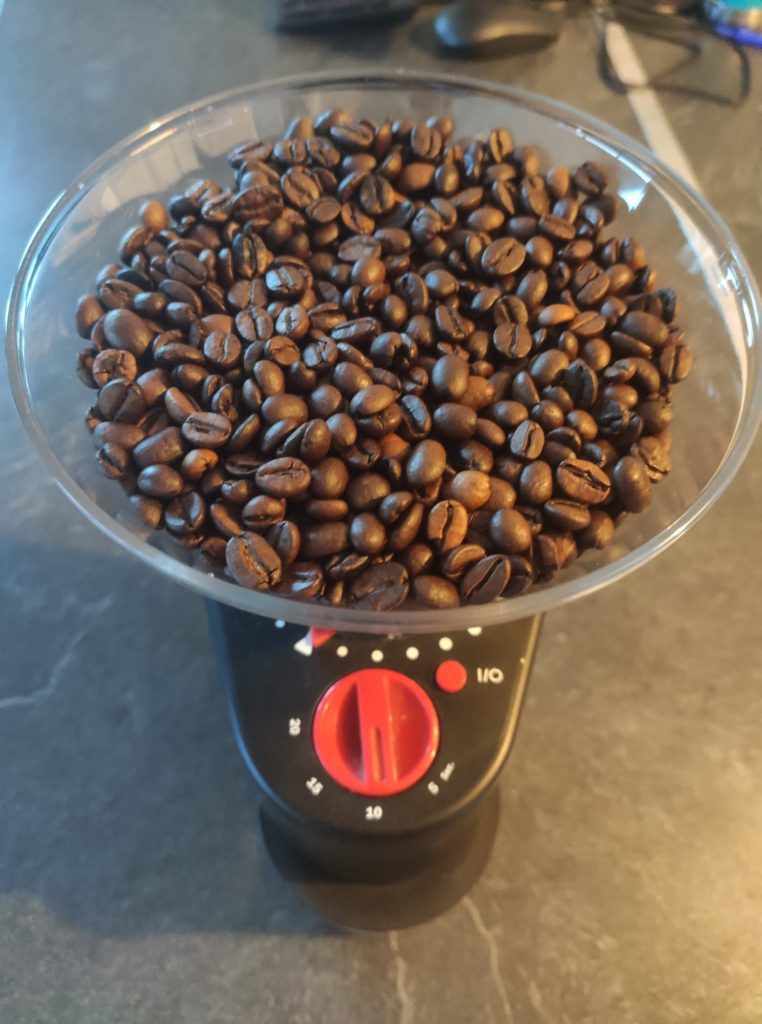 I drink 75% of coffee made in a Chemex coffee maker for two people, so I have my time and grind set. I only have to push a button in the morning to get the right amount of ground coffee at the right thickness. And finally, the cup is made of glass and is antistatic, so it doesn't clump the ground coffee against its walls.
How much does the Bodum Bistro Coffee Grinder cost?
Please note that there are two types of coffee grinders in the Bodum Bistro range, a blade grinder and a grinding wheel grinder, we are talking about the second one which is slightly more expensive than the other but also much more practical and usable. The price is around 135€ on all sites, it is usually cheap on Amazon and that's where I bought it. You can click on the link to see the product sheet. I will actually get a small commission if you buy it on Amazon and that's how this blog lives 😊
Bodum - 10903-01EURO - Bistro - Stainless Steel Electric Coffee Grinder - Black
12 grind settings to meet all requirements. Espresso, filter or piston coffee maker.
Time/quantity" timer which allows to adapt the grinding time to the desired quantity of coffee (max 20 seconds).
Stainless steel wheels with a conical shape for better grinding efficiency.
Quiet.
The freshly ground coffee is gently poured into a non-static, odorless borosilicate glass container.
Grinding speed: 720 rpm.
Advantages of the Bodum Bistro coffee grinder
It is adjustable
It is rather quiet
It is lightweight and easily cleaned
It is not very expensive
It is robust
Disadvantages
Many plastic parts
Power cable a little short (1m)
Conclusion and final grade
I hesitated for a long time before buying this coffee grinder. And I made a mistake! I should have gone for it much earlier. I grinded my beans for several months by hand before I finally gave in and I am now so pleased with it that it is my best kitchen purchase. I have had it for 5 months now (I received it at the very beginning of the containment) and so far everything is going well.
For the note I put it therefore :
14/20 for manufacturing
19/20 for the use and the result obtained
17/20 for the aesthetics (I'm quite a fan of the bodum design)
For an average of 17/20! Which is an excellent score. Thank you for reading this first test and don't hesitate to read the other articles.
Dernière mise à jour le 2022-06-28 / Liens affiliés