Which coffee machine to choose?
Enjoy the variety of flavours your coffee has to offer. As any barista will tell you, nothing beats a properly brewed coffee. Freshly ground coffee, the right grind for your coffee machine.
There are many types of coffee machines, each with its own characteristics.
Filter coffee makers
We all know the filter coffee makers that our parents/grandparents used.
These coffee machines are not at all old-fashioned or outdated! In fact, they are the most common because they require the least amount of human intervention (apart from pod coffee machines). It is the most popular coffee machine in our homes, its large capacity and its ability to keep coffee hot for several hours have made it the ideal companion for families.
It reveals the aromas of the coffee very well, but the lack of pressure will not allow the crema of the coffee to be revealed. There are filter coffee makers that heat water and others that do not, and some are even isothermal to keep your coffee warm for several hours. There are several criteria to consider when buying a filter coffee maker.
[all4affiliates id="2237″ title="Automatic coffee maker"]
Our filter coffee maker ❤️
Delonghi automatic filter coffee maker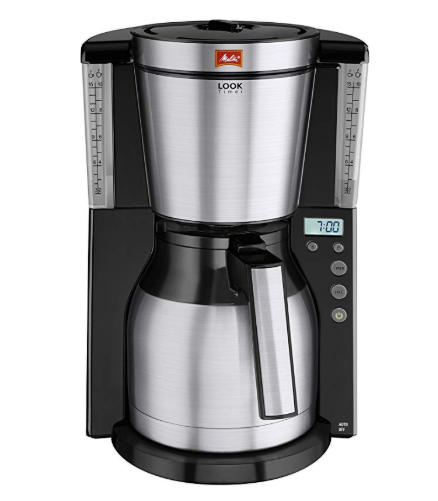 Wake up with a cup of smooth or full-bodied, richly flavoured coffee, Double-dimensional water tank for 10 large cups (125ml) or 15 small cups (85ml)
Exceptional taste: the optimum brewing temperature, Adjustable coffee strength with the aroma selector, Keeping coffee warm for 2 hours with the durable, insulated double-walled metal jug
Start your coffee at the desired time with the timer function, One-handed operation, Drip-free lid and filter holder, Compatible with 1×4 filters, Time display, Cable storage, Stainless steel parts
Preserve your coffee maker and the taste of coffee: Descaling program, Scale indicator, Water hardness adjustment, Removable and dishwasher-safe swivel filter holder, Automatic shut-off, 1000 W, Made in Germany
Piston coffee makers
The "French Press" has nothing to be ashamed of when compared to other types of coffee machines.
It is the favourite type of coffee machine for many coffee lovers. The piston coffee maker is often disparaged for its "camping coffee maker" appearance.
Simple, elegant and inexpensive, the plunger coffee maker has everything you need to bring out the best in your coffee beans.
This machine is certainly the simplest, you insert the coffee and water. Wait a few minutes and lower the plunger, the coffee is ready to be enjoyed. You will get a light coffee perfect for a smooth breakfast.
Our favourite ❤️
BODUM - 1928-16 - CHAMBORD - Coffee maker - 8 cups - 1.0 L
This item is no longer on sale!
The brand's iconic model
Uniquely designed chrome-plated metal frame protects the glass and also acts as a stand
Made for over 40 years by expert craftsmen in our eco-friendly factory in Portugal
Unique quality of materials: heat-resistant borosilicate glass (up to 350 degrees), chrome-plated metal and stainless steel
Espresso machines
Highly recognised by coffee lovers, espresso is for many the form of coffee that reveals the most flavour. It is also the coffee that requires the most equipment. But once you've enjoyed a good espresso at home, it's hard to go back. It is also the coffee that allows you to make cappuccino, latte macciato etc.
De'Longhi Dedica Style, Espresso machine for making coffee and milk drinks, EC685M, Chrome steel
PERFECT EXPRESSO: Create your perfect espresso with a rich aroma and a nutty cream
CUSTOM EXPRESSO: Like a barista, control every step of your espresso preparation for a unique tasting pleasure
COMFORT AT HOME: Only 15 cm wide, the most compact espresso machine on the market with great features
STEAM NOZZLE: Steam nozzle with dimmer to prepare all your favourite milk drinks and creamy milk foam with ease
3 FILTERS: DEDICA is equipped with one cup, two cup and one ESE compatible filter. Maximum cup height (cm): 12
Input power (W): 1300
Our favourite ❤️
Automatic coffee machines
These are real automats that make espressos without human intervention, these machines are very suitable for professionals and coffee lovers without the inconvenience of preparation.
Our favourite ❤️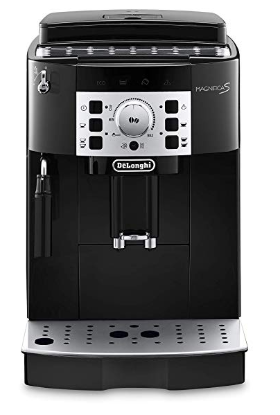 Easy to use from the control panel
Customisation: intensity, cup length and temperature
Coffee beans or ground coffee (decaffeinated)
2 cups simultaneously
Removable front tank
Coffee pods
They have made their way into homes around the world, a real revolution when they first came out. The Nespresso coffee machine does have its drawbacks. It is expensive and restricts your freedom to choose your own coffees. Dare to try real coffee.
Our favourite ❤️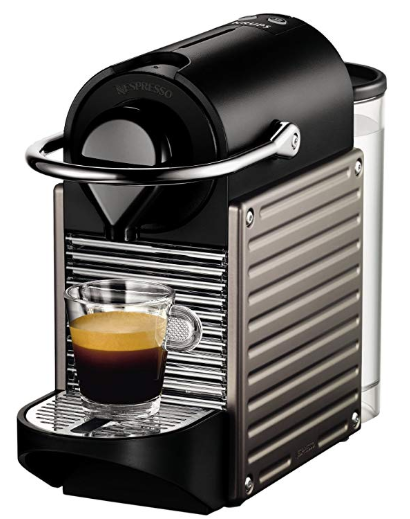 Pixie automatic coffee machine, the espresso machine with a modern design in recycled aluminium
Free of charge! A set of 14 capsules delivered with your machine
Dimensions (LxHxW): 11.1 x 23.5 x 32.6 cm
2 buttons with automatic coffee stop: espresso (40 ml) or long coffee (110 ml)
19 bar pressure: the guarantee of a professional quality espresso
Fast preheating: 25 seconds
Power saving mode: automatic sleep mode after 9 min
Removable 0.7 L water tank
Backlit warning system when the water tank is almost empty
Moka coffee makers
Moka coffee makers or Bialetti coffee makers are traditional Italian coffee makers. Unjustly classified as too difficult to use, it only takes a few minutes to prepare a coffee halfway between a filter coffee and an espresso. Find this page dedicated to the recipe for moka coffee.
Our favourite ❤️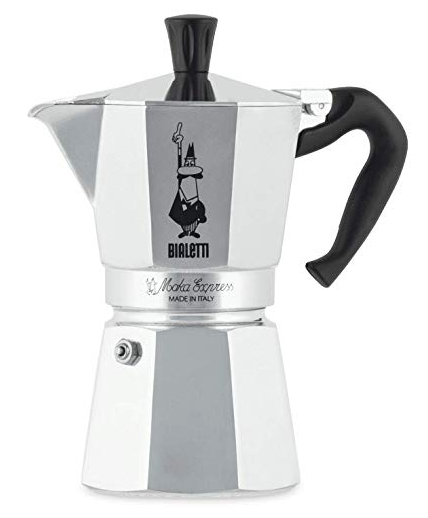 Size: 6 Italian cups (1 cup equals 50 ml)
Bright aluminium and suitable for all hobs
Not induction compatible
Ergonomic handle and nylon pommel, robust, offering a good grip
Exclusive safety valve, easy to inspect and clean, patented by Bialetti
Height: 22 cm, Width: 16 cm
Capacity: 300 ml
Customised coffee thanks to the possibility of selecting the quantity and quality of the blend directly in the filter
Our selection of coffee machines
Product
De'Longhi Magnifica S, Espresso machine with grinder ECAM22.110.B, Black
Melitta Caffeo Solo, Pure Black, E950-222, Automatic Coffee and Espresso Machine with Grinder
De'Longhi Dedica Style, Espresso machine for making coffee and milk drinks, EC685M, Chrome steel
Product
De'Longhi Magnifica S, Espresso machine with grinder ECAM22.110.B, Black
Product
Melitta Caffeo Solo, Pure Black, E950-222, Automatic Coffee and Espresso Machine with Grinder
Product
De'Longhi Dedica Style, Espresso machine for making coffee and milk drinks, EC685M, Chrome steel
Last updated on 2022-06-26 / Affiliated links